Spring Freshies on the Horizon
Spring may have sprung but Old Man Winter is ready to fight back with a pack of snow storms lined up over the next 7-10 days! Storm clouds have started to roll in at Sierra and we're expecting snowflakes to start falling later this afternoon.
I am certainly not a meteorologist, but I've had a blast geeking out on the active weather patterns lined up for the next week. According to NOAA, OpenSnow.com, and AccuWeather forecasts, there are two major systems heading our way this week and each of them holds the potential for about a foot of fresh snow. While the forecast models can't seem to agree on exactly how much snow will fall, they remain consistent with most of the snow falling along the crest. Thanks to our resort's founder, Vern Sprock, Sierra sits right along the Sierra crest and tends to receive the brunt of snowfall brought in by winter storms.
Another great thing about this beautiful location our founder chose for the resort, is the base elevation sits at 7300 ft and goes all the way up to 8852 ft at the top of Grandview Express. Snow levels will start out above 7000 feet, but should drop rapidly down to 5000 feet by Wednesday morning, before the heavy snowfall begins. If the storms come in as NOAA is forecasting, we could be shreddin' through 12-18 inches of new snow by Thursday morning! Here's a quick peek at the Canadian forecast model through Thursday for some perspective: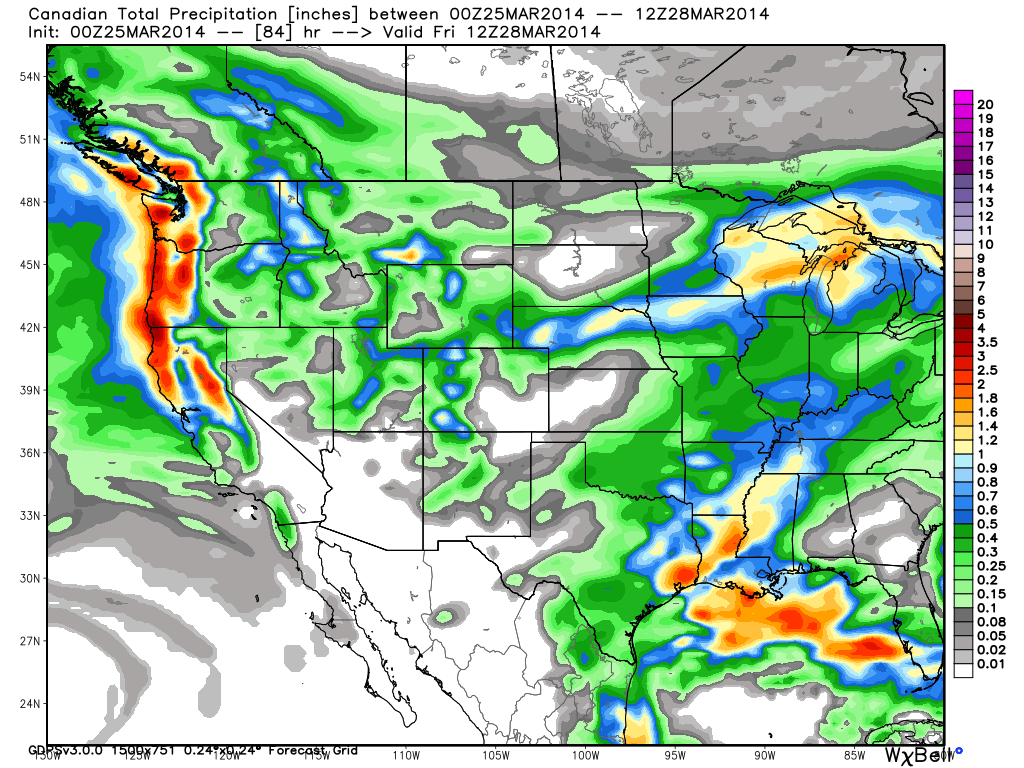 We might see a few lingering snow showers on Thursday and Friday, but don't worry my fellow powder hounds, another cold front is expected to push through on Saturday, potentially dropping another foot or so by Sunday morning.
With all this snow lined up, the big question that remains is when should you plan to ride? Obviously - every day you can get on the mountain is a great day! But if you're looking to maximize your pow riding, Thursday and Sunday look to have prime conditions with up to a foot of fresh snow and mellow weather throughout the day!
Stay tuned for updates as the storms start to roll in and keep up those snow dances!